Is it just us or do the years seem to be flying by? It feels like we just started 2019, and now we're headed towards the new year. It's always so important for us to be intentional about taking a minute and reflecting, so we can remember all the amazing things God did within the business, and step into the new year with hearts of gratitude. 
To be honest, this year wasn't the easiest for us. We've experienced many growing pains and hurdles, however, through it all, God has been faithful and did some amazing things that we want to celebrate and share with you.
Visiting Vogue in New York 
During the summer we decided to spontaneously create a vision board to allow ourselves to dream about the vision for Gracemade. One of the things that were pinned to the board was the Vogue logo - this represented our dream of being featured in the publication. A few weeks later we just so happened to run into a vogue editor at an event and exchanged information. A few months after that we found ourselves in the Vogue offices in Manhattan having a meeting with that editor.
Opening up the conversation about the brand with Vogue was an experience beyond our wildest dreams and we're hopeful that, that opportunity will only be the first of many more to come!
Hannah Simone became a Gracemade customer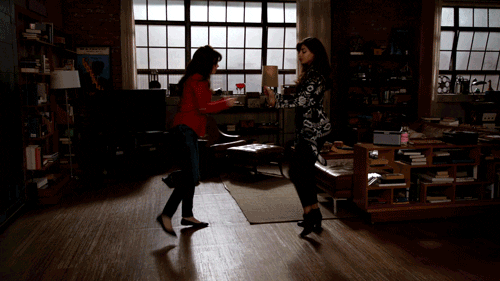 Any New Girl fans out there? Hannah Simone, who plays Cece on the hit show blessed us with her presence when she stopped by our Los Angeles pop-up in the spring and purchased the Shalom Jumpsuit. We tried not to fan-girl too much, but this was definitely an awesome drop-in. 
Our Brentwood storefront 
It was such an amazing experience getting the opportunity to have a physical location for a month in the beautiful city of Brentwood. We got a small taste of what it will be like when we open a permanent storefront and really fell in love with the community. 
Visiting Facebook/Instagram 
Another cool thing that happened, was being invited to the Facebook/Instagram Los Angeles HQ. We met some amazing people, learned a lot of new things to implement in the business, and got a mentorship opportunity. Because of this relationship that we established we'll be returning in 2020 to host a special pop-up for their employees!
Popping up in SF for the first time
San Franciscans are our people. They just get us. We popped up in San Francisco for the first time this year and it was such a success! The brand was very well received in this market, and we can't wait to get back in 2020. 
Visiting our friends at Life Impact International 
When we decided we wanted to include giving back into our business model it was so important that we were actually connected to the organization in some way, so it's always so special when we can actually visit them. This October we had the opportunity to go to Thailand and visit our partners at Life Impact International. It's always such a blessing to see the progress that's being made, and how we're helping to make a difference.
Kind words from Priscilla Shrier 
If you don't know who Priscilla Shrier is, do yourself a favor and look her up. She's an amazing Bible teacher, actress, taste-maker and so much more! We have been personal fans for so long so when she shouted out on Instagram we definitely freaked out. Next order of business - getting some Gracemade on her!
We want to know what some highlights of your 2019 were. Reflect with us down in the comments!